We're also emailing this to the general public, and it contains distressing new information that Secure Arkansas has not released previously. (Download the NEW DOCUMENT here! It's a zip file that will download the 11-page document onto your computer. We've also included it in the body of our email below.)
We DO need your help to bring more awareness to others and to follow up with our Congressional/Federal Delegation about the outright collusions between the Centers for Disease Control (CDC) (and other federal agencies) and outside groups to impose the dangerous community water fluoridation (CWF) on the American people.
Safe drinking water should be part of our nation's critical infrastructure. Community water fluoridation not only erodes this infrastructure daily in every water plant but also creates a national security nightmare. As former EPA scientist, Dr. Robert J. Carton, wrote in a letter to the editor shortly after 9/11:
In the tunnel fire in Baltimore this summer, what chemical was feared most? "The most dangerous of the train's load of chemicals, according to experts, is fluorosilicic acid."
Unlike chlorine, fluorosilicic acid is odorless and tasteless. Numerous incidents have occurred where pumps have failed and many people have become ill and have died.
There is a frightening parallel between the availability of planes to hijackers and the ready availability of highly toxic chemicals at water treatment plants. Tom Curtis of the American Water Works Association was quoted in the Times story as saying: "We don't need to advertise where the weakest links in the armor are."
Maybe the terrorists already know.
ACTION ALERT: We strongly encourage you to read the eye-opening document below.
After you do, again, we need your help in contacting both our U.S. Senators and all 4 of our U.S. Congressmen by email, phone, and fax to be sure they have the alarming and important information from this document! We have included their contact information at the very bottom of this alert (below the document), and it's important that you keep it because they DO NOT publish it all together in one place, the way we've entered it.
Before you read the document, here are some necessary acronyms that are included in it:
MCL – The Maximum Contaminant Level is the maximum concentration of a chemical that is allowed in public drinking water systems.
EPA – Environmental Protection Agency
CDC – Centers For Disease Control and Prevention
DOH – Division of Oral Health
NRC – National Research Council
ADA – American Dental Association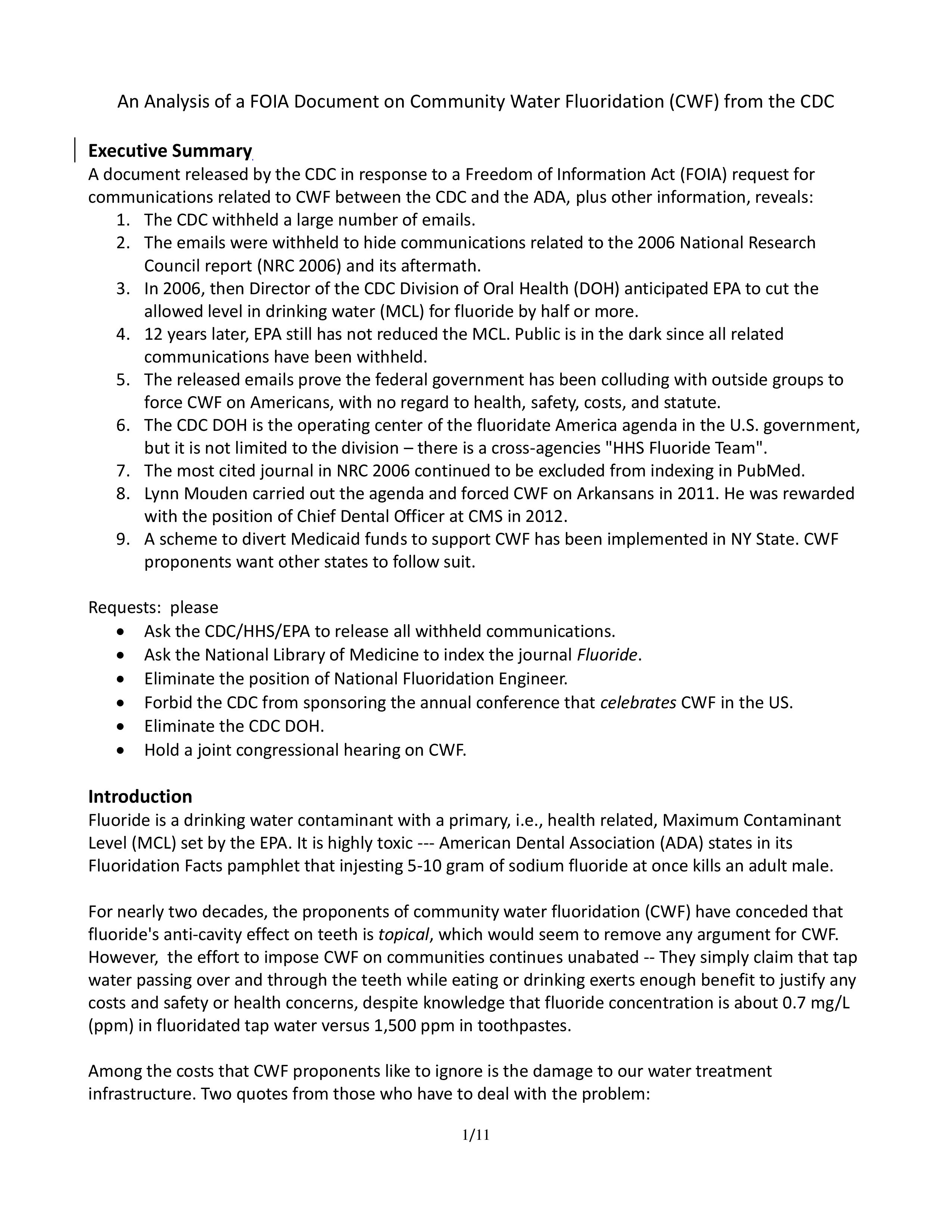 Sincerely,
James Robert Deal , Attorney & Broker
James
PO Box 2276 Lynnwood WA 98036
Law Office Line: 425-771-1110
Broker Line: 425-774-6611
Cell and Text Line: 425-670-1405
KW Everett Office Line: 425-212-2007
Fax: 425-776-8081
Paypal.me/jamesrobertdeal
WashingtonAttorneyBroker.com
WashingtonAttorneyBroker.com/Helping-Brokers
Cell phone real estate app: app.kw.com/KW2V4HP64/
Desktop real estate app: jamesrobertdeal.kw.com
Mortgage-Modification-Attorney.com
Fluoride-Class-Action.com/Safewater
JamesRobertDeal.org/Smart-Meters
JamesRobertDeal.org/Attorneys-Viewpoint-Vaccinations
JamesRobertDeal.org/Door-To-Door-Transit
WhatToServeAGoddess.com/Music-By-Jimmie-Deal
If you like our work, give us a thumbs up review on Zillow
If you like our work, give us a thumbs up review on Yelp